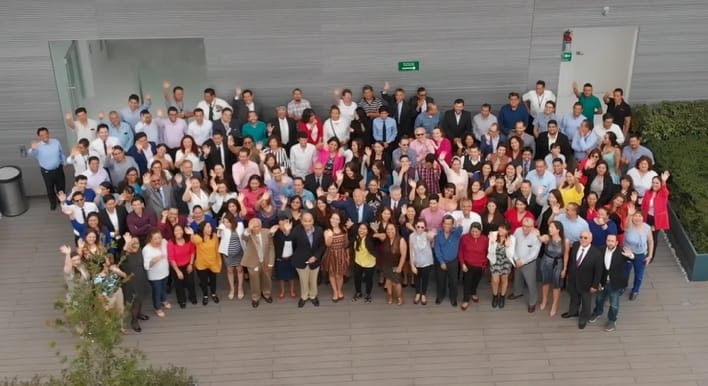 Electrónica y Medicina, S.A. is a Company dedicated to sell, install and maintain medical equipment used for image diagnosis, radiotherapy, anesthesia, monitoring, laparoscopy, and electrosurgery.
Our Mission:
To contribute improving the quality of life and health care of Mexican people.
Our Vision:
To become a business leader in our area, within a profit framework that allows us to be a world-class Company.
Quality politics:

"In Electronics and Medicine SA we are dedicated to the sale, installation and service of medical equipment in the specialties of Diagnostic Imaging, Radiotherapy, Anesthesia, Monitoring, Laparoscopy and Electrosurgery, with this we are committed to be a business opportunity and profitable growth for all the interested parties, through the training of our collaborators and the continuous improvement, implemented in the model of Quality Management Systems ISO 9001: 2015 "
Quality objectives:

1. Evaluate customer satisfaction by generating strategies to increase it
2. Evaluate our suppliers in compliance with the requirements established for the company
3. Train operational personnel to improve their skills
4. Be a profitable company
Our values
Respect
Perseverance
Will
Collaboration
Compromise and responsibility
Equity
Honesty
Creativity
Enthusiasm and passion
Humility
Communication
These are our compromises
Our Customers
Our customers: To become trustworthy by continuously improving quality and service with great professional ethics.
Our Contributors
To combine the interests of the Company and the contributors in a professional, comfortable and competitive work environment, with high honesty and responsibility standards.
Our suppliers
Our compromise is to be a business and profitable growth opportunity.
The Society
To work as a team with our environment in order to improve life quality and health in Mexico.
Background
Electrónica y Medicina, S.A. (EYMSA) was established in May 1979 as a Company providing service to x-Ray equipment, mainly to the installed base of General Electric devices in Mexico.
Between 1982 and 1992, it was the sole distributor of General Electric´s Division in the United Mexican States. In 1992, when General Electric decided to directly participate in the national market, EYMSA made distributions agreements with several companies, like Shimadzu from Japan, Diasonics from USA, etc. in the area of image diagnosis and Varian from USA in the area of radiotherapy.
Today, EYMSA is a distributor in the Mexican United States for the following companies:
Compañía Mexicana de Radiología CGR, SA de CV. (X-ray, PACS-RIS y HIS)
Ziehm Imaging (C arcs)
Technix S.P.A. (mobile X-Rays)
Samsung Medison (Ultrasound)
Neusoft (Computerized Tomography)
Varian Medical Systems (Radiotherapy)
Brainlab (Radiosurgery)
Planmed Oy (Mammography)
Konica Minolta (Film and consumables)
Orfit (Radiotherapy)
PTW (Radiotherapy)